Vision and Values
At Horsenden we grow ambition by holding limitless aspirations for all our pupils. We create an environment where every pupil is valued as an individual and they are supported to explore their interests and develop the academic, personal, social and emotional skills and characteristics they need to be successful now and in the future.
We do this by:
Providing staff who inspire pupils by being passionate, forward thinking practitioners who teach pupils to be articulate, independent, critical thinkers

Creating an inclusive, stimulating and personalised curriculum which reflects our community and remains relevant in a changing world

Providing a variety of experiences and opportunities; socially, emotionally, physically and spiritually to ensure that each pupil becomes a valued member of their community and a responsible citizen
Planning activities that build resilience, self-confidence and self-regulation strategies and allow pupils to challenge themselves and take risks in their learning
Developing practitioners who are committed to continually striving for improvement by making use of current research to understand how children learn best and acting on this to improve their practice

Actively work with parents, families and wider school community to ignite children's curiosity and fulfil their aspirations
Our Horse Code Values
At Horsenden, we place a great emphasis on our core values; hardworking, optimistic, respectful, sincere, empowered. These moral values guide our actions and the choices we make. We endeavour to enable our pupils to leave Horsenden having made the best possible progress they can whilst preparing them to be responsible citizens of a modern world.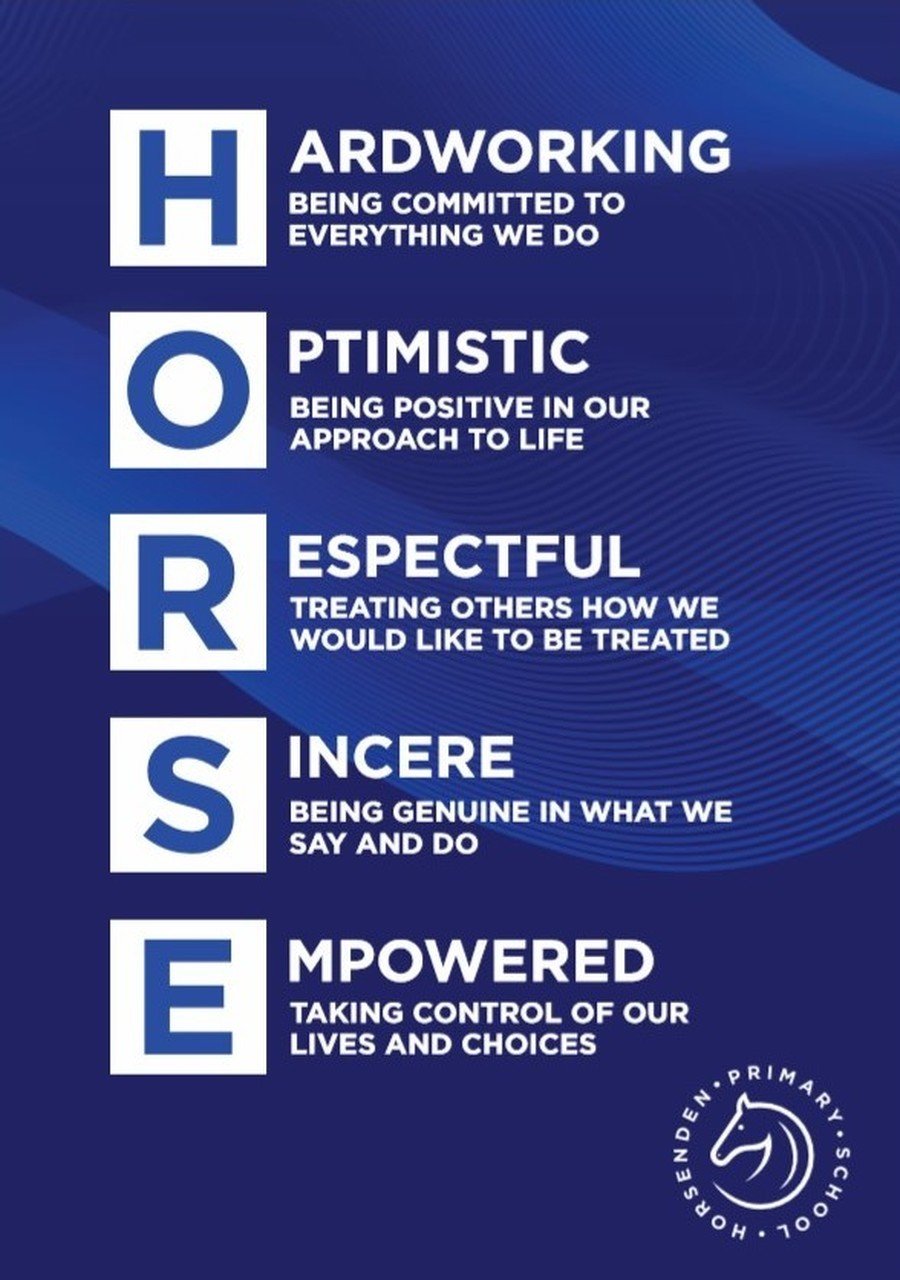 British Values

At Horsenden Primary School we believe that our existing principles, ethos, mission statement, policies, practices and curriculum all reflect, promote and reinforce 'Fundamental British Values' as stated by Department of Education (DfE) and Ofsted.
These values are:
Democracy

Rule of Law

Individual Liberty

Mutual Respect

Tolerance of different Faiths and Beliefs
We believe that these fundamental British Values are already implicitly and explicitly embedded in our practices and beliefs. We stimulate discussion, reflection and action about these values via: daily interactions, spiritual, moral, social and cultural (SMSC) education, circle time, personal, social, health education (PSHE), religious education, charitable work, visits and more recently via our new Picture News Programme which explores a range of SMSC themes displayed on our SMSC board.
1) British Value – Democracy
Definition: To have a 'voice', to be able to 'vote' and to be able to make decisions about things that affect us.
What this looks like at Horsenden Primary School:
As part of SMSC, PSED, PSHE (Ealing Scheme of Work), Picture News and other areas of learning we develop pupil's self-confidence and self-awareness from the start. We encourage pupils to talk about their feelings, that of others, to vote (e.g. hands up) on things they like/dislike, want/don't want.

Adults plan activities that encourage turn taking, sharing and collaboration e.g. playing games and building something.

Adults encourage and try to create a climate in which pupils are not afraid to ask questions and explore solutions to problems.

Surveys and questionnaires are used to gather pupil and parent views; pupil voice sessions are a regular part of SLT monitoring.

Pupils are given opportunities to negotiate the class code of conduct at the beginning of each school year.

Pupils are given opportunities to evaluate their work, events and activities.

Through Assessment for Learning strategies (AfL) pupils are learning to negotiate success criteria and self/peer mark their own and other pupil's work.
2) British Value – Rule of Law
Definition: Jointly made rules that everyone obeys to protect all who live in a society. This allows everyone to feel safe, secure and happy.
What this looks like at Horsenden Primary School:
Assemblies.

Golden Rules and behaviour policy.

The adults encourage the pupils to think about their behaviour and its impact on others. To understand right from wrong and look for solutions to problems/issues.

The adults use the curriculum, books, assemblies, special events, trips, speakers and festivals to teach values such as loyalty, fairness, honesty, safety and teamwork.

The adults invite the police, fire service, nurse, charities, theatre groups and other visitors to explore issues such as health and safety, rights and responsibilities.

The pupils negotiate and revisit class code of conduct and school golden rules regularly.

The pupils are taught to understand and follow our behaviour policy. Dojo points, class rewards systems, celebration assemblies and SLT postcards all aim to increase pupils' understanding of appropriate and inappropriate behaviour and rewards and sanctions.

School Council is set up to raise pupil voice across the school.
3) British Value – Individual Liberty
Definition: To know that in a democracy everyone has rights but equally individuals have a responsibility to not exercise their rights at the expense of someone else.
What this looks like at Horsenden Primary School:
Through the curriculum (Understanding of the World, PSHE, e-Safety, collective worship, Picture News and circle time) our behaviour policy and our everyday interactions, the adults plan activities and encourage the pupils to:
Develop a positive sense of themselves.

Take risks in their learning, make mistakes, and use these as learning points.

Have confidence in their own ability.

Talk about their feelings and understand that their views may differ from others, e.g. fears about going into a new year group.

Keep themselves and others safe.

Look after their environment.
4) British Value – Mutual Respect
Definition: Treating others as you would like to be treated
What this looks like at Horsenden Primary School:
We believe that mutual respect is an essential part of a diverse community such as ours. We use books, displays, posters, policies and celebration of key festivals to visibly represent our commitment to this value. However, we are also proactive in ensuring that it is embedded throughout the school and that:
Respect is a core value in the HORSE code and links to the school's golden rules.

The curriculum, e.g. PSHE, PSED, RE, Picture News and collective worship, helps to embed inclusivity and tolerance of different types of families, faiths, races and communities etc.

Adults are positive role models and that they use language, behaviour and resources and plan activities that promote sharing, respect and tolerance.

Adults challenge gender, racial or any other forms of stereotyping.

Pupils are taught to respect their rights and the rights of others.
5) British Value – Tolerance of Different Faiths and Beliefs
Definition: Understanding and Respect of differences
What this looks like at Horsenden Primary School:
We provide a range of opportunities for pupils, parents and the rest of the school community to think about and celebrate the different religious festivals. For example, we organise:
Learning opportunities and celebrations in school related to Christmas, Ramadan and Eid.

Visits to different places of worship.

Speakers to talk about their faiths.

RE Curriculum Ealing agreed syllabus.
We also ensure that the curriculum and the teaching of RE and collective worship also promotes tolerance of different faiths, beliefs and no beliefs. Pupils are taught to respect their rights and the rights of others.